Best Investment Apps [2021 Review]
As non-finance professionals, the world of investing is daunting. We have heard of too many incidents of fortunes being lost in the blink of an eye in the stock market because of bad decisions or luck or corporations cheating citizens because they failed to read the fine print. All these reasons lead us to hold back on investing nd be satisfied with the meagre interest rates that savings accounts generate.
Finance need not be complicated or boring. Many of the new age investment apps take the friction out of investing and make investing as simple as possible. With these investment apps, you don't have to rely on anyone else to invest your money. Let's look at some of the best investment apps.
What are the best investment apps?
If you are a beginner dabbling in stocks or a disciplined investor, there's an investment app for you. Many of these apps require no investment and all you need is a mobile phone to invest. Some of the apps allow trading in stocks, while others allow a combination of mutual funds, ETFs (exchange traded funds), mutual funds, bonds, options, currency and cryptocurrency.
Robinhood was founded in 2013 with the mission to "provide everyone with access to the financial markets, not just the wealthy". Since it was formally launched in 2015, Robinhood has become the choice for investors, amassing millions of dollars in investment capital and more than 13 million users.
Robinhood is a great app if you're just starting to invest. It offers commission free investing with $0 account minimum.  The app has a user friendly interface and intuitive and easy to use. It allows you to trade stocks, ETFs, options and cryptocurrency and through active investing, which is different from robo advisory apps where the management of your portfolio is automated. You can trade the following cryptocurrencies on Robinhood.
Bitcoin SV
OmiseGO
Lisk
Bitcoin Gold
Dash
Monero
Zcash
NEO
Stellar
Ethereum Classic
Qtum
Ripple
Dogecoin
Litecoin
Bitcoin Cash
Ethereum
Bitcoin
Although Robinhood has received some flak for its recent outages, it's a popular app to consider. Robinhood is free to use and offers both desktop and mobile apps.  The desktop version doesn't offer many bells and whistles, but the mobile app offers the ability to get alerts, newsfeed, research a stock's performance, view analyst ratings  and listen to earnings calls based on earnings calendars.  If you are a frequent trader and interested in trading in cryptocurrencies, Robinhood is the app for you.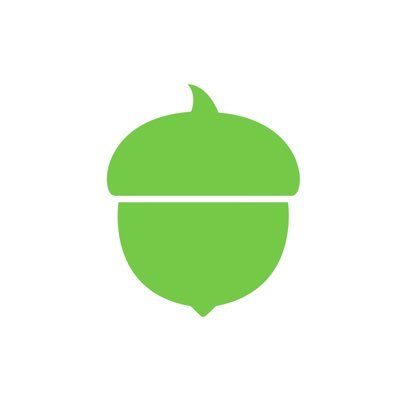 Acorns was founded in 2012 and formally launched in 2014. The mission of the company is to promote micro and passive investing. The Acorn is the nut of an oak tree. Just like nuts grows to become a huge oak trees, Acorns is based on the idea that small investments can reap huge returns.
Acorns is also a robo advisory tool, which is based on the idea of investing your spare change. Acorns rounds up all your credit and debit card purchases to the nearest dollar and automatically invests the spare change into a mix of exchange-traded funds, a customized portfolio. You can buy fractions of shares, with as little as $5. You can also set up recurring investments for as little as $5 a day, a week or a month.
Through these micro and automatic investments, Acorns aims to encourage the habits of saving and investing among its users. With Acorns Found Money you can invest a set amount or a percentage of your purchase price directly into your Acorns Invest account when you spend with more than 300 leading brands. Acorns offers 3 tiers of membership plans
Acorns Lite – $1 per month for investment account
Acorns Personal – $3 per month for investment, retirement and checking account
Acorns Family – $5 per month for investment, retirement, checking and investment account(s) for kids
Acorns also charges you $50 per ETF to have your ETFs transferred to another broker. However, there are no charges if you want to sell your investments and have your money transferred. Acorns is a cool app if you want to trade and have a hands off approach towards trading and let someone else manage your money. 
Stash was founded and launched in 2015. It's an excellent investment app for beginners that is easy to get started on. The advantage of Stash is that it allows you to trade in fractional shares with $0 minimum account.
Additionally, it has a learning center that offers educational material and provides guidance to first time investors.  You can pick from more than 1,800 ETFs and stocks.  Stash is great for automatic investing. It rounds up your credit and debit card purchases to the nearest dollar and one it reaches $5, it will be automatically sent to your investment account.
It should be noted that although Stash provides investment guidance to make sure that the user has a sufficiently diversified portfolio, Stash doesn't automatic rebalance your portfolio.
Stash also has a dividend reinvestment program or DRIP which lets you automatically reinvest your dividends. Stash has 3 tiers of membership plans, Beginner, Growth and Stash+. You can also open a Stash custodial account for $1. Although Stash doesn't have an annual fee, it does have a $75 transfer fee. Stash has a banking feature, with an online account and debit card. Stash online accounts are not interest bearing. A great feature of Stash is the Stock-Back, a rewards program through which you can earn rewards in the form of fractional shares of stock when you spend with the Stash debit card.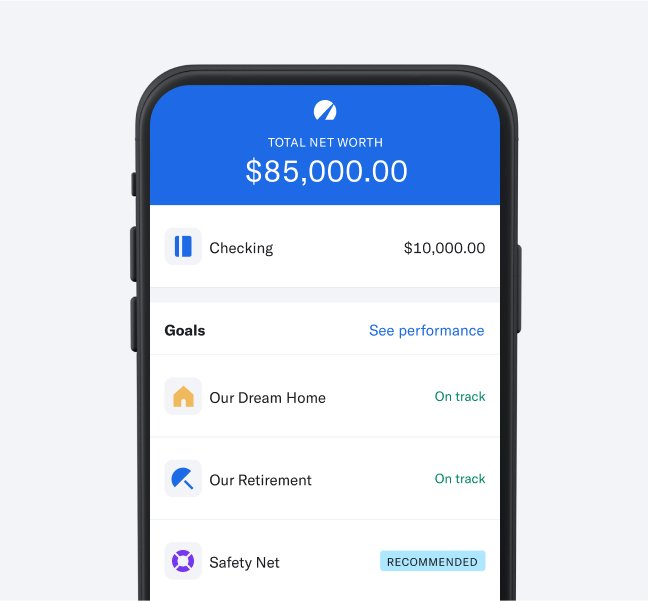 Betterment is a robo-advisory investment app with $0 minimum account. Betterment Digital is a great option for beginners which charges a minimum annual fee, just .25% of your account balance.  With a $100K account minimum, you can opt into Betterment Premium and interact with a human financial advisor for a .40% fee.
With Betterment, you can also set goals and risk tolerance. Betterment has great goal setting tools. Betterment automatically rebalances your investment on a daily basis, based on your risk tolerance and modify your strategies to achieve  your investment goals.
Automatic rebalancing is free for both Betterment Digital and Betterment Premium accounts, with Betterment Premium getting the additional benefit of being monitored by human financial advisors. If you're on a Betterment Digital account and need financial advice, you can purchase financial planning packages.
Betterment also supports charitable giving on its platform, where you can elect to donate tax free to charities partnering with Betterment.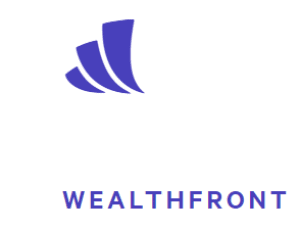 Wealthfront was founded in 2008 and currently has more than 13.5B assets under management. It is a great robo advisory app which is into passive investing and allows you to build a globally diversified portfolio of low cost index funds. Wealthfront has an account minimum of $500 and .25% advisory fee.
Wealthfront builds a custom portfolio for you based on your risk tolerance and adjusts the portfolio to ensure it is balanced. The rebalancing is done when money is deposited, when the market moves or when dividends are reinvested.
Among other features that Wealthfront has include the Wealthfront Cash Account which is a savings option that pays 0.35% interest, a debit card option and automatic payment option.
Wealthfront also has a great financial planning tool called Path which helps you plan your savings, purchasing a house, planning for college and retirement. Additionally, it also has another tool called Time Off for Travel which helps users plan for their travel and see how travel fits into their overall savings goals.
SoFi was founded in 2011, with the goal of making student loans affordable for students taking on debt. SoFi Invest is an investment app that you can get started on for as little as $1 and start trading ETFs, stocks and crypto. You can purchase fractional shares for certain stocks with SoFi invest and there are no trading fees. SoFi has no closing or transfer charges as well and there is no minimum account to be maintained.
You can either choose to pick your own trades, i.e, actively invest, or let SoFi to build a portfolio for you with automated investing. The great thing about SoFi is that here are no charges for automated investing as well. If you opt in for automated investing, SoFi monitors your account on a daily basis and automatically rebalances your portfolio against your target allocation. The rebalancing is done when your account balance changes as well.
SoFi allows you to trade on the following cryptos. However, the charges to trade crypto are 1.25% of each trade.
Bitcoin
Bitcoin Cash
Ethereum
Ethereum Classic
SoFi Invest also has an investment knowledge base for users to build their knowledge and reach their short or long term investment goals. Additionally, SoFi Invest offers free financial counseling for their users to devise their long term investment strategy. However, you should keep in mind that SoFi Invest doesn't allow investing in mutual funds and bonds.
Webull is an investment app that was launched in 2018 that allows you to trade in stocks, options, ETFs and ADRs (American Depositary Receipt, which are certificates issued by a U.S. bank that represent shares in foreign stock). There are no commissions and no account minimums that you need to maintain. 
Webull supports full extended hours trading, which includes full pre-market (4:00 AM – 9:30 AM ET) and after hours (4:00 PM – 8:00 PM ET) sessions. It also has In-depth Analysis Tools, which help users analyze companies and trends to capitalize on trading opportunities.  Webull offers price alerts and real time market data, analyst ratings as well as access to news and press releases from within the app to get timely information out to users to influence their investment decisions.
If you're an active investor that likes to be hands on with portfolio management, Webull is the app for you.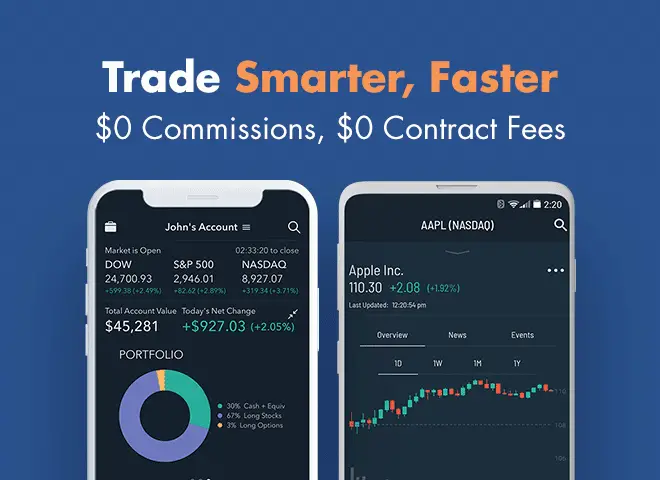 Firstrade was founded in 1985 and most recently has launched its investment app that has $0 trading costs and $0 account minimum to start investing. Firstrade allows users to trade in stocks, bonds, mutual funds, ETFs and options. Another plus of Firstrade is that it doesn't charge commissions for trading mutual funds and neither charges a contract fee on option trades.  However, if you want to transfer your account, Firstrade charges you $75.
Firstrade has free research available on its app. It has material about market trends and educational seminars for first time traders to get better at investing. Firstrade is available in the Chinese language as well.
All these amazing Investment Apps make it super easy to invest with as little money as possible. With all the resources that they provide, not having enough money or knowledge is never an excuse to not get started. Happy investing!